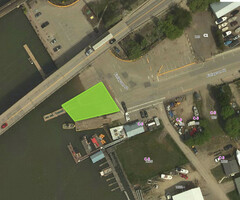 Phase one of upgrades to the Finlayson Boat Launch will proceed November 1, 2021 after the District received approval from the Ministry of Forests, Lands, Natural Resource Operations and Rural Development for the removal of existing structures. 
"District staff recognized that upgrades along the waterfront was proving to be a lengthy and delicate process," said Darrell Symbaluk, Operations Manager for the District of Sicamous. "These challenges, coupled with the complexity and timing of the upcoming highway bridge construction made it clear that a staged approach, in terms of phasing work is the best avenue for achieving overall success with this project."
The first phase of the project, which has an approximate timeline of three weeks, includes the removal of the federated wooden boat launch (ramp), removal and profiling of the existing Gordon Mackie Square, as well necessary in-stream works. Residents are advised that during this time, there may be occasional disruptions to vehicle and pedestrian traffic near the waterfront area. Temporary measures will be put in place after the removal phase is complete to ensure the area remains open to the public.
The next phase of the project will involve collaboration with stakeholders to identify critical elements necessary to achieving a detailed design. Once this has been achieved, the design will be submitted for permit approvals to begin the construction process. As an approved capital project, the Finlayson Boat Launch upgrades will be funded by District reserves and phased over several years.
-30-
For additional information, please contact:
Darrell Symbaluk, Operations Manager
P: 250-836-4105 Ext. 5001 
E: operationsmanager@sicamous.ca