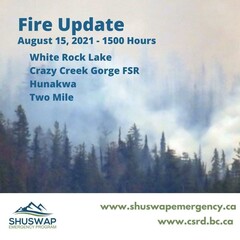 All Evacuation Orders and Alerts within the CSRD remain in place for all fires listed below.
White Rock Lake 62,273+ ha
No significant fire growth is expected in the CSRD. There are strong gusting winds from the south to southwest expected. There will most likely be a significant increase in fire activity today starting this afternoon. Heavy equipment, ground crews, and helicopters are strategically positioned to priority areas on the fire that are expected to be the most challenging along the north, northeast, and east flanks.
Please note that this fire stretches across different municipalities and Regional Districts – visit your local government's website for area-specific updates.
Crazy Creek Gorge FSR 4,001+ hectares
Crews conducted a planned ignition operation behind Pete Martin Bay last night to further secure the area by removing unburnt fuels. Today crews will be working to mop up this area. Structure protection personnel will continue to maintain systems for effectiveness. Crews are continuing to build guard from the 6km mark on the 2420 road, moving upslope, to secure the area. Helicopters will continue to support operations with bucketing activities when required.
Hunakwa Size: 3,355+ hectares
Crews are continuing to mop up and patrol for any hotspots that may impact the guard on the west and north side of the fire, near the community of Seymour Arm. Crews are also working to mop up and patrol along the machine guard in the southwest.
Two Mile 1,542+ ha
On the west side of the fire crews have made excellent progress on securing the flank above the community of Sicamous. Crews continue to work on the south and north sides of the fire, wrapping around towards the east with machine guards and hand-cleared guards. Assessing options for containment on the north end is ongoing.
Next update will be tomorrow morning unless the fire situation changes significantly.
#YourCSRD #SEP #BCWildfire