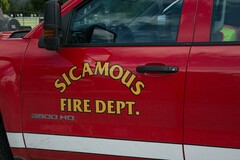 The District is inviting proposals from qualified firms interested in preparing a Firehall Feasibility Study that would provide an in-depth analysis of the feasibility of building a new fire hall or renovating the existing fire hall for the District of Sicamous.
The Sicamous Fire Dept. is currently housed in a 45-year-old building that was designed as a firehall to house the existing apparatus. The Firehall is in a residential area near a school. An addition was built to house the Ladder truck in the year 2000. It is currently occupied by 2 pumper trucks, a Tender and a Ladder truck and an antique fire truck. One bay is utilized by the Rescue Society and houses one of its two rescue trucks. There is also a Structure Protection Trailer that is parked outside and a Side by Side parked in another building.
This study will evaluate the available options to the District including estimated costs associated with the different options. It would also evaluate the possibility of satellite firehalls in new development areas.
Opening Date: October 27, 2021 
Closing Date: November 26, 2021 | 4:00 p.m. PST
 Please download the RFP package for project details and submission requirements.
Learn about other tender opportunities such as the Active Transportation Network Plan.