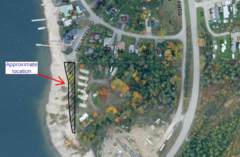 In 2022, the District received a request from the family of Rob Flockhart to have a street or amenity named after Mr. Flockhart in his memory.
NHLer Rob Flockhart's hockey card may say Smithers, but he always called Sicamous home. The Flockhart family relocated to Sicamous in 1969. Rob represented Canada in the 1975 World Junior Championships and played five seasons in the NHL, beginning his career with the Vancouver Canucks. Alongside his brother and fellow NHLer Ron, the pair ran the Flocky Hockey - Hockey school in Sicamous as well as Flocky's, a popular food and drink establishment. Rob passed away on January 2, 2021. 
The District of Sicamous Naming Review Panel has identified the Two Mile area for Mr. Flockhart's naming recognition.
On July 14, Flocky's Beach was unveiled at the end of Tecumseh Road in the presence of friends and family of Rob Flockhart.