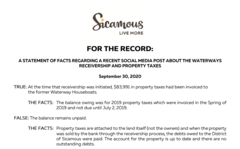 FOR THE RECORD:
A STATEMENT OF FACTS REGARDING A RECENT SOCIAL MEDIA POST ABOUT THE WATERWAYS RECEIVERSHIP AND PROPERTY TAXES
September 30, 2020
PDF Available HERE
TRUE: At the time that receivership was initiated, $83,991 in property taxes had been invoiced to the former Waterway Houseboats.
THE FACTS:   The balance owing was for 2019 property taxes which were invoiced in the Spring of 2019 and not due until July 2, 2019.
FALSE: The balance remains unpaid.
THE FACTS:   Property taxes are attached to the land itself (not the owners) and when the property was sold by the bank through the receivership process, the debts owed to the District of Sicamous were paid. The account for the property is up to date and there are no outstanding debts.
FALSE: Property taxes have gone up 60% over the past five years.
THE FACTS:   The District of Sicamous has annually increased its tax rates by a nominal amount each year. If property owners are seeing a significant increase in their property taxes, it is due to an increased property value assessment from BC Assessment. You can learn more at www.bcassessment.ca.
FALSE: Councillor Colleen Anderson was in a Conflict of Interest as she was both the Operations Manager and a Councillor with the District at the time of receivership.
THE FACTS:   Elected Officials are permitted to be employed and also hold elected office (learn more at www.elections.bc.ca/resources/legislation. At any point that the accounts or affairs of Waterway Houseboat Vacations were discussed by the District of Sicamous Council while she was also simultaneously employed by the company, Councillor Anderson recused herself from the discussion by exiting the room and only returning once the topic was closed.
If you have any questions on this subject or anything else related to the District of Sicamous, you are invited to contact:
Amanda Passmore, Communications & Public Affairs Officer
District of Sicamous
T: 250-836-2477 x 2180
E: apassmore@sicamous.ca