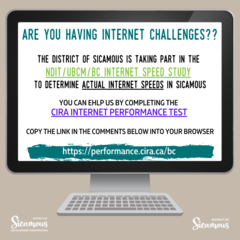 The District of Sicamous is excited to participate in an Internet Speed Study to determine actual Internet speeds in Sicamous.
This study is a collaboration between the provincial Ministry of Citizens' Services, Northern Development Initiative Trust (NDIT), and the Union of BC Municipalities (UBCM) with research and analysis by TANEx Engineering.
You are encouraged to complete the CIRA Internet Performance Test by August 15, 2021 for the optimal data recovery and study results.
Before you start the test, please check the location of the Location Pin, and if necessary, drag the pin to mark the correct residence or office location on the map. Note that if you complete the test using a cellphone, you will not be able to drag the location pin.
Here is a Step-by-Step Guide for participating. If you have any questions, please contact Carly Procyshyn at 250-517-7641 or cprocyshyn@dosdc.ca.