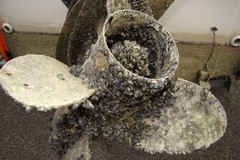 Zebra and Quagga mussels are propeller blade shaped freshwater mussels that can reach up to 30mm in size. They are not yet in BC and pose a serious threat to native species and fisheries in our lakes and rivers.

Live mussels attached to boats, other watercraft and recreational equipment can easily be transferred from one body of water to another. Mussel larvae can float undetected in water in bait buckets, live-wells, pumps and bilges.

Once introduced, Zebra and Quagga mussels are very difficult to eradicate and costly to remove. They threaten native species and fisheries, and increase maintenance costs of hydroelectric, domestic water, industrial, agricultural and recreational facilities.
Click here to learn more about Zebra and Quagga mussels
Practice CLEAN, DRAIN, DRY to stop invasive mussels from entering BC.
Report invasive mussels to the Conservation Officer Services RAPP LINE 1-877-952-7277.
Popular Links
B.C. Conservation Officer Service adds second detection dog
Invasive Mussel Defence Program ramping up for another year