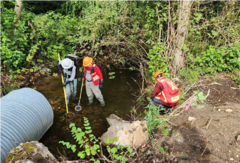 The District of Sicamous project to replace the culverts at Owlhead Creek crossing Kerr Road is underway!
On July 25, the sheet pile coffer dams, creek bypass system and a temporary bridge crossing were installed.
On July 26, 2023, three environmental consultants were onsite to monitor and salvage fish from the isolated creek bed.
The environmental consultants rescued 137 fish from the creek bed, 80 per cent of which were chinook salmon fry.
The largest fish was a six inch rainbow trout and the largest chinook salmon fry was three inches. The environmental consultants took care to weigh, measure and identify each fish before releasing them downstream from the work zone.
The sump and pump system was installed to avoid creating turbidity within the water. The grate filter box keeps the water from getting cloudy and ensures that no fish get sucked into the system. On the downstream side of the site, there is a diffuser that dissipates the waterflow back into the creek.
Read more about the Kurr Road culverts replacement project!