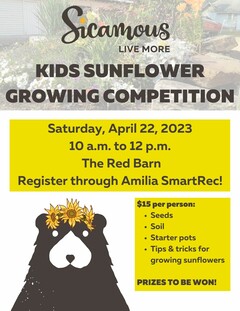 Hey, kids!
Do you think you can grow the biggest sunflower? The Recreation Department is holding a sunflower growing competition for the summer of 2023!
Come to the Red Barn on Saturday, April 22 between the hours of 10 a.m. and 12 p.m. to pick up your seeds, soil, starter cups and the rules.
It is $15 to enter. The funds will be used to buy some great prizes!
Register online by this Friday, April 14 at 4:30 p.m.