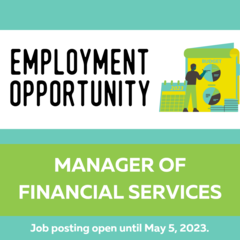 The District of Sicamous is looking for a Manager of Financial Services!
The Manager of Financial Services is responsible for overseeing the efficient organization and day-to-day administration of the financial operations of the District. This position leads Finance Department support staff and ensures provision of services in compliance with District bylaws, policies and statutory requirements.
This exempt position reports directly and provides assistance to the Chief Financial Officer with respect to fulfilling the statutory functions of the Financial Officer and the Collector of Taxes and may fulfill the duties of the Chief Financial Officer in their absence.
To explore this opportunity, please email your cover letter and resume to hr@sicamous.ca by 4:30 p.m. on May 5, 2023.