Mayor Rysz's Message to the Community - Monday March 23, 2020
Posted On: Mar 22, 2020
Tags: Your Municipality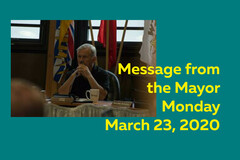 In this video, Mayor Rysz provides an updated message to the community on Monday March 23, 2020, during the COVID-19 Pandemic - updates to what the District is doing, what our province is doing, what everyone should be doing, and how we can support each other.
Please share the Mayor's message with your friends, family and neighbours. 
If you have comments or questions, please email us at info@sicamous.ca.
Thank you