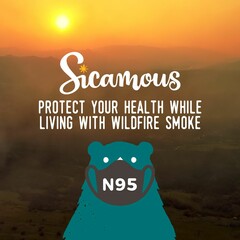 Health Canada recommends wearing a well-fitted mask (N95 or respiratory equivalent) to protect yourself from wildfire smoke if you plan to be outside. This type of mask is designed not to allow air to pass between the mask and the face.
N95 masks were donated to the District and are now available to the public. They can be picked up from reception at Municipal Hall during regular office hours. Regular office hours are Monday to Friday, 8:30 a.m. to 4:30 p.m., with the exception of statutory holidays.
Learn more about protecting your health while living with wildfire smoke!
Shuswap Community Foundation, in partnership with the Canadian Red Cross and the Federal Government, has been able to access a supply of N95 masks to provide particulate protection for communities affected by the wildfires in the Shuswap. SCF Executive Director, Roger Parenteau, and Joel Torrens, Lieut. for the Salvation Army and Lighthouse Shelter in Salmon Arm, are teaming up to distribute these masks across the Shuswap to those in need.