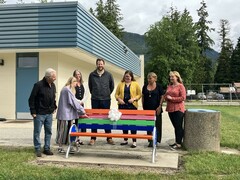 Today, a Ribbon Cutting Ceremony took place for the new Buddy Bench at
Parkview Elementary School
. The Buddy Bench, which helps students signal to others that they would like someone to play with, was initiated by Grade 6 student Hazel Spanke.
Sicamous Council was pleased to support the initiative and agreed to the District donating $2K to assist the Parkview PAC with purchase and installation.
"The buddy bench will allow our students to demonstrate their caring and sense of belonging to our school community," said Parkview Principal Carla Schneider. " We are grateful to the District of Sicamous, the SD83 Operations department, Parkview PAC and especially to Hazel for making this beautiful bench a reality."
Mayor Terry Rysz was pleased he could attend the Ceremony alongside Hazel, members of the Parkview PAC and representatives from School District #83.