News Release: Fire Department Receives Two Grants for Community Safety, Training & Equipment
Posted On: Mar 12, 2020
Tags: Your Municipality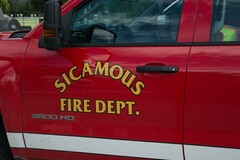 The District of Sicamous Fire Department was recently awarded two grants through the Province of British Columbia for community safety, training and equipment.
Through the 2019 Volunteer and Composite Fire Departments Equipment and Training funding stream, under the Community Emergency Preparedness Fund (CEPF) managed by the Ministry of Public Safety & Solicitor General, the Fire Department was granted $24,995 towards their Equipment: Live Fire Training Props Project. The CEPF grant will enhance the training area with training tools, such as propane live fire props. It will include building wooden props and a storage container to house them. Over $5,000 will be for fire hose for the training area and nearly $7,000 worth of required updates to equipment for our Structure Protection Unit Trailer.
The second grant comes from the Community Resiliency Investment Program (CRIP) for 2020 FireSmart Community Funding & Supports through the Ministry of Forests, Lands, Natural Resource Operations & Rural Development towards the Sicamous 2020 Wildfire Risk Mitigation project, in the amount of $150,000. The CRIP grant will support our FireSmart efforts as well as work in areas that are Crown lands but within the District boundaries. These two areas have been identified as areas above the Owlhead parking lot, and the area south of Bayview Estates. 
***
Contact
Brett Ogino, Fire Chief
District of Sicamous
Cell: 250-309-2855
Email: firechief@sicamous.ca