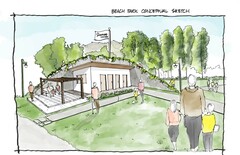 The Sicamous Beach Park will be revitalized with a new washroom and concession facility, creating greater opportunity, access, and enjoyment for all.
The District of Sicamous has been successful in its application for $447,000 through the Province of British Columbia's Community Economic Resiliency Infrastructure Program (CERIP). This funding will be the majority contribution towards the building of the brand-new Beach Park Facility. The budgeted cost for the project is $677,000, of which $230,000 will be contributed by the District. Construction is expected to begin Spring 2021.
"We can't wait to get this new facility built. It's going to feature a concession area, new washroom, improved outdoor dining area, additional seating for special events, and overall improved accessibility for the community and our guests. The project will support and create local jobs throughout the construction of the project, as well as the operation of the concession stand in the summer. Beyond these immediate impacts, an improved park facility will bring more visitors to Sicamous businesses as locals and visitors flock here for sunny beach days, music in the park, and more." - Mayor Terry Rysz
A PDF of this release is available here.