Notice of Meeting: 2019 Annual Corporate Report
Posted On: Aug 17, 2020
Tags: Your Municipality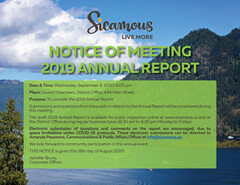 Date: Wednesday, September 9, 2020
Time: 6:00 pm
Place: Council Chambers, District Office, 446 Main Street,
Purpose: To consider the 2019 Annual Report
Submissions and questions from the public in relation to the Annual Report will be considered during this meeting.
The draft 2019 Annual Report is available for public inspection online here and at the District Office during regular business hours (8:30 am to 4:30 pm Monday to Friday).
Electronic submission of questions and comments on the report are encouraged, due to space limitations under COVID-19 protocols. These electronic submissions can be directed to Amanda Passmore, Communications & Public Affairs Officer at info@sicamous.ca.
We look forward to community participation in this annual event.
THIS NOTICE is given this 18th day of August 2020.
Jennifer Bruns,
Corporate Officer