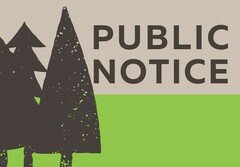 Heads up! Two things are happening here:
Some existing Residential Low Density in town is proposed to move to Residential Medium Density. What does that mean? The biggest change is that you may be able to have 50 units/ha instead of 30 units/ha (4 dwellings per parcel), or about six units instead of four on your property. Have a read through the two designations below (pages 17-19):
Official Community Plan Bylaw No. 918, 2016
Please take the time to have a look at the current and proposed OCP designations in the maps below and think about what that means for you.
Next up, are you zoned R1? The District of Sicamous is also proposing to amend the R1 zone to increase the number of dwelling units per parcel to four, where two to three are secondary dwellings.
With these proposed changes, we are aiming to increase the density in Sicamous' core residential areas to help alleviate some of the housing needs in our community.
At the May 3 Planning & Development Committee meeting, the planning department explained what this could look like for Sicamous. If you missed the meeting, you can watch the recording on our YouTube channel.
A Public Hearing will be held on Wednesday, July 26, 2023 at 5:00 p.m. in Council Chambers (District of Sicamous Municipal Office, 446 Main Street, Sicamous, BC, V0E 2V0) to consider both of these amendment bylaws, District of Sicamous Zoning Amendment Bylaw No. 1038, 2023 and District of Sicamous Official Community Plan Bylaw No. 1039, 2023.
Copies of the draft bylaws may be viewed online at: https://www.sicamous.ca/live-here/building-planning-development/developments
If you believe that your interest in property is affected by the proposed bylaw, you will be afforded an opportunity to be heard at the Public Hearing or to submit written comments, respecting the Amendment Bylaws. The public is encouraged to submit their comments in writing prior to the Public Hearing. Where all comments are received by 4:30 p.m. on Tuesday, July 25, 2023, they will be provided to Council. You may submit your comments:
via email to publicinput@sicamous.ca
via regular mail to Box 219, Sicamous B.C., V0E 2V0
hand delivered to 446 Main Street, Sicamous, B.C.
All written comments received prior to the Public Hearing will be presented to Council at the Public Hearing and those attending in person will have the opportunity to speak to Council on the proposed Bylaws. Please note that Council is not permitted to receive submissions after the close of the Public Hearing. The District of Sicamous assumes no responsibility for correspondence not received by the District Office prior to the Public Hearing.
To attend the Public Hearing electronically, please join us via ZOOM at: https://us02web.zoom.us/j/84243364235