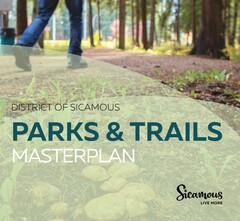 Exciting news, Sicamous! At the June 28 Regular Council Meeting, Council approved the Sicamous Parks and Trails Masterplan.
The Parks and Trails Masterplan is a planning tool to guide the management of current and future parks and trails within the District of Sicamous for the next ten years.
This masterplan identifies existing and proposed parks and trails within Sicamous and identifies areas for improvement and maintenance.
The masterplan outlines the existing policies and guidelines, current park supply and inventory of the existing parks and trails. In addition, the plan includes a summary of public engagement process, key findings, and recommendations.
The vision of the Parks and Trails Masterplan is to protect, maintain and enhance existing parks, trails, and facilities, and plan for future parks and trails while facilitating all-season use and improved accessibility for all ages and abilities.
The creation of the Parks and Trails Masterplan involved extensive research, public engagement and analysis. A total of 12 public engagement opportunities were offered for the community to provide feedback regarding parks, trails and active transportation (p. 16).
The Parks and Trails Masterplan includes the following:
Introduction
Park Classification
Parks Inventory
Trail Inventory
Proposed Trails
Recommendations
Public engagement summary
Parks map
Parks Classification map
Existing and proposed trails map
Check out the Parks and Trails Masterplan to learn more about the existing and future parks and trails in the District of Sicamous!