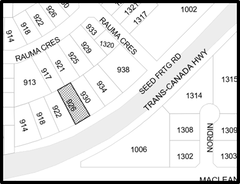 A Public Hearing will be held on Wednesday, March 22, 2023 at 6 p.m. in Council Chambers (District of Sicamous Municipal Office, 446 Main Street, Sicamous, BC, V0E 2V0) to consider District of Sicamous Zoning Amendment Bylaw No. 1030, 2023.
The purpose of this application is to amend the C-2 Highway Commercial Zone Section 4.4.2.10.e to allow a detached Employee Dwelling to the side or rear of the commercial use, for the property located at 926 Seed Frontage Road.
If you believe that your interest in property is affected by the proposed bylaw, you will be afforded an opportunity to be heard at the Public Hearing or to submit written comments, respecting the Sicamous Zoning Amendment Bylaw.
The public is encouraged to submit their comments in writing prior to the Public Hearing. Where all comments are received by 4:30 p.m. on Tuesday, March 21, 2023, they will be provided to Council. You may submit your comments:
via email to publicinput@sicamous.ca,
via regular mail to Box 219, Sicamous B.C., V0E 2V0, or
hand delivered to 446 Main Street, Sicamous, BC
All written comments received prior to the Public Hearing will be presented to Council at the Public Hearing and those attending in person will have the opportunity to speak to Council on the proposed Bylaws. Please note that Council is not permitted to receive submissions after the close of the Public Hearing. The District of Sicamous assumes no responsibility for correspondence not received by the District Office prior to the Public Hearing.
To attend the Public Hearing electronically, please join us via ZOOM.