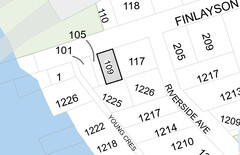 Public Notice – Lease of 109 Finlayson
In accordance with section 24(1)(a) of the Community Charter, notice is hereby given that it is the intention of the District of Sicamous to enter into a lease agreement with Bus Stop Bistro Inc. commencing June 1, 2023 and expiring on May 31, 2025 for use of the land located at 109 Finlayson Street to operate a family-oriented bistro. The consideration being received by the District is $375 + GST monthly for the lease with the option to renew under the same terms (with the exception of rent) for up to an additional two years.
Please contact the corporate officer at corporate@sicamous.ca for additional information and/or inquiries.
Background Information:
* Newspaper Correction: In the May 18, 2023 edition of Eagle Valley News the advertisement concerning this lease has an error. It notes that $375 + GST is an annual fee. The lease is for $375 + GST monthly.