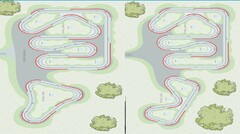 Engagement Results 
March 13, 2023
An opportunity for the public to provide input was provided between February 10 and March 10, 2023. A total of 532 people participated in the poll. 
Are you in support of a pump track in Finlayson Park?
| | |
| --- | --- |
| Yes | 77.3% (411) |
| No | 22.7% (121) |
The District also collected comments from the public. There were 23 comments total with three responses from individuals who reside outside of the community.
Pump Track Engagement Comments
Original post
The District of Sicamous is requesting public input to explore the possibility of a pump track in Finlayson Park. The poll and comments will remain open until Friday, March 10, 2023. If you would prefer to submit your response in person, paper copies are available at reception in Municipal Hall located at 446 Main Street.
Should there be enough public support, the District will continue to explore this recreational opportunity and proceed with further public engagement. Please consider the following information before submitting your response.
What is a pump track?
A pump track is a circuit track that consists of rolling mounds and berms (banked corners). The circuit is completed by pumping to gain momentum. Riders use their bodies to push and pull the bike to "pump" through the track while gaining momentum. Pump tracks are meant to be completed without pedal strokes and can also be ridden by skateboards and scooters.
Why ride a pump track?
Riding a pump track can help riders gain skills.
Loading and unloading the bike
Cornering ability
Jumping
Building and maintaining momentum
Repetition and muscle memory
What riders can use the pump track?
Bikes, skateboards and scooters can be used on the pump track.
What are pump tracks made with?
Originally, pump tracks were made with dirt. Now, many pump tracks are made with asphalt.
Pump track resources:
Proposed location: