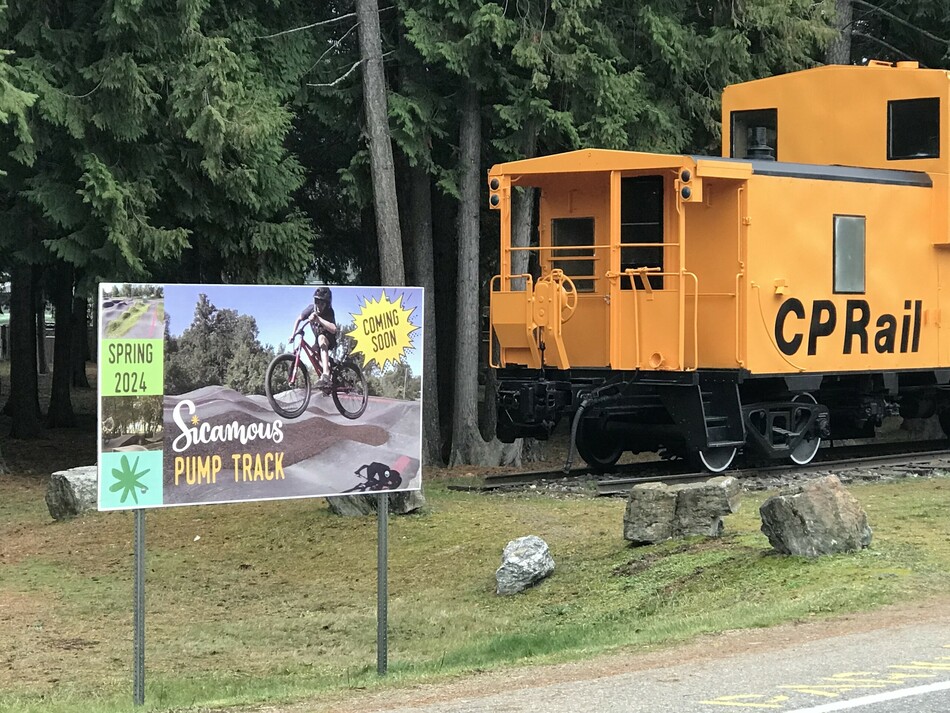 Sicamous is getting a pump track! You may have noticed new signage near the CP Rail caboose at Finlayson Park. This exciting project will promote outdoor recreation opportunities in Sicamous and draw visitors to the community.
Construction will be underway in the spring of 2024, but we're getting the site ready this fall. Preparing the site for construction will involve the removal of select trees – but don't worry, we're keeping the focus on the beauty of the outdoors and the track is designed for riders to weave between the trees.
Where exactly will the pump track be? The pump track will be constructed in Finlayson Park (1121 Eagle Pass Way) on the land between the Sicamous Curling Rink and the CP Rail caboose.
A pump track is a circuit track that consists of rolling mounds and berms (banked corners). The circuit is completed by pumping to gain momentum. Riders use their bodies to push and pull the bike to "pump" through the track while gaining momentum. Pump tracks are meant to be completed without pedal strokes and can also be ridden by skateboards and scooters."
The new community pump track will also be built to an approved Union of Cyclists International (UCI)-qualifying track standard, giving Sicamous the potential to host competitions in the future. 
More information will be shared as the construction progresses in 2024.
Background Information: