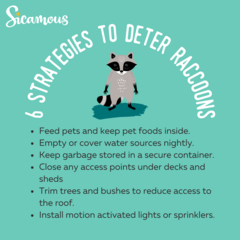 The District of Sicamous has received an increase in raccoon complaints. Here are some raccoon-mendations on how to prevent raccoons from frequenting your yard:


1) Feed pets and keep pet foods inside.
2) Empty or cover water sources nightly, including water bowls, bird waterers and pools.
3) Keep garbage stored in a secure container.
4) Close any access points under decks and sheds with wood or wire fencing.
5) Trim trees and bushes to reduce access to the roof.
6) Install motion activated lights or sprinklers.