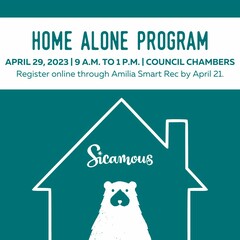 The District of Sicamous will be offering a Home Alone Course on Saturday, April 29 from 9 a.m. until 1 p.m. in Council Chambers.
This program is designed for children 10+ years old to develop home alone safety skills including how to handle an emergency and the importance of routines.
A minimum of four participants are needed for the course to proceed. Please register by 4:30 p.m. on April 21, 2023.
For more information please contact the Recreation Department at 250-836-2477 ext. 2192