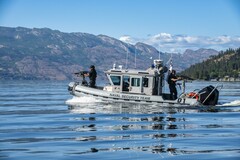 Your Royal Canadian Navy is in Sicamous, and they want to meet you!
The team will be at the Sicamous Beach Park from 9 a.m. to 4 p.m. on August 6, 2023.
Check out a Defender class boat used by the Naval Security Team (pictured) and some drones - aerial and aquatic. There will be lots to explore - meet some of the RCN's amazing sailors, get some swag and more!
If you want to get involved, why not check out the Naval Experience Program.
The Royal Canadian Navy looks forward to seeing you!