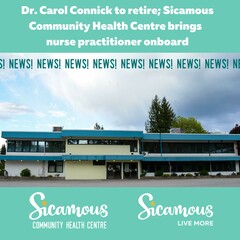 FOR IMMEDIATE RELEASE:
Dr. Carol Connick to retire; Sicamous Community Health Centre brings nurse practitioner onboard
February 14, 2023 — Dr. Carol Connick has announced her retirement, effective June 1, 2023, after five years of service in Sicamous. Nurse practitioner Jennifer Post-Balfour will step into the role, bringing years of experience and knowledge to the Sicamous Community Health Centre team.
"I am grateful to have bridged the gap in patient care and continued health care for this region," Dr. Connick shares. "I'm confident that the Sicamous Community Health Centre and the rest of the team will achieve great things."
Throughout her time as a physician in Sicamous, Dr. Connick has supported the health of countless residents and demonstrated dedicated service to the community. The Sicamous Community Health Centre and the District of Sicamous would like to thank Dr. Connick for the time and energy that she has invested and wish her happiness in her retirement.
"On behalf of council and staff, I would like to thank Dr. Connick for the support she has provided our community," said Mayor Colleen Anderson. "Dr. Connick is one of the incredible people who assisted in navigating the transition from a private-owned clinic to district-owned medical facility. We wish her all the best in her retirement."
Upon retirement, Dr. Connick looks forward to spending more time with her family in the Shuswap and Edmonton and visiting sunny destinations. She is committed to ensuring a seamless transition for the community upon her retirement and looks forward to remaining involved in advocacy for health care in Sicamous.
Jennifer Post-Balfour has 24 years of experience as a nurse and over seven years of experience as a nurse practitioner. Nurse practitioners are registered nurses who have additional education and experience that enables them to diagnose and treat illnesses, order and interpret tests, prescribe medications and perform medical procedures.
"I am honoured and thankful to be accepted into the community of Sicamous," says Post-Balfour, who will begin working at the Sicamous Community Health Centre in the coming weeks. "I look forward to supporting the community, advocating and providing care for your overall health."
Nurse practitioners take a holistic approach to health that treats the whole person, considering needs relating to physical and mental health, medical history, how illness affects a person's life and family and educating patients on how to manage their health and lead a healthy life.
Moving to Revelstoke after living in Fort St. John and Toronto, Post-Balfour has four children and is an avid runner. Please join us in thanking Dr. Connick for her service and welcoming Post-Balfour to our community.
If you were a patient of Dr. Connick and are looking for another physician, resources include the Medical Pathways Directory and the BC College of Family Physicians. You may also visit a local walk-in clinic or an urgent primary care centre.
-30-
For additional information, please contact:
Sicamous Community Health Centre
P: 250-836-2817
Additional information: