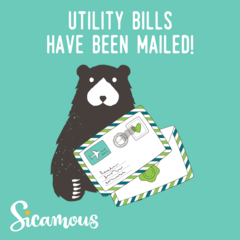 Due Date: Tuesday, September 5, 2023
Important: Please note that online services are currently unavailable, so all invoices have been sent in the mail. If you have not received your invoice by August 18, please email finance@sicamous.ca and a copy will be forwarded to you.
Residents are encouraged to pay utility balances before the due date to avoid penalties.
Check out the utility insert included with your invoice for information on the following:
Utility payment options and information
Water conservation tips
Need more information on how utilities are billed? Visit our Utilities page!