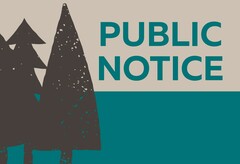 A special council meeting of District of Sicamous Council will be held at 8:30 a.m. on Wednesday, September 27, 2023, in council chambers at Municipal Hall (446 Main Street).
A portion of this meeting will be closed to the public under section 90(1)(j) of the Community Charter for "information that is prohibited, or information that if it were presented in a document would be prohibited, from disclosure under section 21 of the Freedom of Information and Protection of Privacy Act and 90(1)(n) for "the consideration of whether a council meeting should be closed under a provision of this subsection or subsection (2)."
Notice is hereby given this 20th day of September 2023.