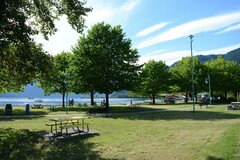 The District of Sicamous is pleased to announce that the Sicamous Beach Park has been selected as the location of choice for SASCU'S 75th Anniversary Legacy Art Project. 
An experienced artist or team of artists will be commissioned by SASCU for the design, fabrication and installation of the artwork project with an overall budget of $75K.
SASCU has released a Call To Artists for Expression of Interest, seeking ideas that are meaningful, interactive and reflect community values. The EOI application deadline is August 31, 2021.
The estimated project completion is Spring of 2022. 
Thank you SASCU!