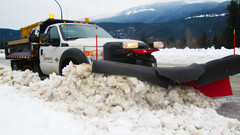 The District of Sicamous is creating a Snow Removal Equipment Registry to provide private contractors with the opportunity to supplement snow removal activities for the District in cases of extreme weather.
Submissions must clearly state the name of the company or applicant, address, telephone number, experience, availability, hourly rate, and a list of equipment.  In addition, contractors must provide written evidence of Workers Compensation Board registration and Comprehensive Liability Insurance, to the satisfaction of the District. All contractors will be required to hold a valid District of Sicamous Business License.
Please complete the Equipment for Hire Registration Form and email your application to reception@sicamous.ca. Alternatively, applications may be delivered in person to Municipal Hall during regular office hours (8:30 a.m. to 4:30 p.m. Monday to Friday, excluding Statutory Holidays).