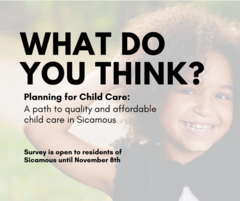 For Immediate Release: October 28 2019
District of Sicamous Child Care Planning Committee invite residents to share ideas for the future of child care services in Sicamous and Electoral Area 'E'.
Sicamous, BC - The Government of British Columbia has identified a child care space shortage in British Columbia. To better understand the impact this is having on families in Sicamous and the region, the District of Sicamous and the Child Care Planning Committee have created a survey. Residents of Sicamous and communities in Electoral Area 'E' are invited to provide their input from October 25 to November 8, 2019.

The results of the survey will remain anonymous and will be communicated to the provincial government with the intention that provincial childcare planning will consider the community of Sicamous' needs.
The survey takes approximately fifteen minutes to complete and is open to all residents of Sicamous and residents in Electoral Area 'E'. It will close on Friday, November 8, 2019. Links to the survey will be posted on the District's Website, Twitter and Facebook accounts.
Link to Survey:
Twitter: https://twitter.com/DOSicamous
Facebook: https://www.facebook.com/DOSicamous/
Media Contact:


Jamie Sherlock
Recreation & Events Manager