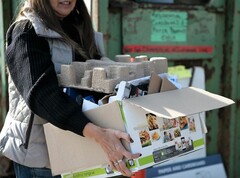 The Columbia Shuswap Regional District (CSRD) is updating its solid waste management plan (SWMP or Plan). This Plan needs to reflect a long-term vision for how our region manages its solid waste. The CSRD is considering all types of strategies aimed to Reduce, Reuse, Recycle, Recover and manage Residual waste going to landfills for the next 10 years.
The CSRD has created a Public and Technical Advisory Committee (PTAC) to help guide the process. This committee provides diverse input from the public, the business community and Indigenous communities to help shape the Plan and proposed actions and initiatives.
Learn more about the emerging issues/opportunities that are being considered and provide feedback on how PTAC should prioritize these issues. The survey will take roughly five minutes to complete. The deadline to participate is Friday, September 1, 2023.