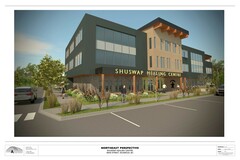 On July 3, 2020 the governments of Canada and British Columbia announced the awarding of a jointly funded grant to the District of Sicamous in the amount of $5,923,931 for a new health centre in Sicamous, BC through the Rural and Northern Communities Infrastructure Stream of the Investing in Canada Plan. 
The Shuswap (Secwepemc) Healing Centre is a hallmark of a new era for Sicamous; highlighting the next stage of development and growth for our resilient, dynamic, and beautiful community. This investment is key in strengthening our local economy, the health of our people, and will further fortify Sicamous as community where persons of all walks of life can live more.
A ground breaking ceremony was held today, July 24, 2020 at Municipal Hall with honoured guests and representatives of Splatsin, local and regional authorities and elected officials, the District of Sicamous Staff and Council, as well as members of the public and media. Construction is slated to begin in 2021 following a competitive bid process.
Quotes:
"The pandemic has further increased the need for health and mental health care, especially in rural and remote communities. Our government is investing in the Shuswap (Secwepemc) Healing Centre so families and individuals in the area have reliable access to mental health and counselling services when they need them. Congratulations to all involved. To date, our Government has supported 256 projects to improve roads, bridges, water, waste water, and community recreation in British Columbia to create jobs and improve quality of life."
The Honourable Maryam Monsef, Minister for Women and Gender Equality and Rural Economic Development
"Today's announcement is an example of all levels of government working together to provide the people of the Splatsin and the community of Sicamous with better access to a range of health services. This investment will provide a culturally appropriate facility which addresses challenges faced by communities and families affected by mental illness and addiction, which is a part of our government's commitment to providing the best possible health services for people in need of support."
The Honourable Scott Fraser, Minister of Indigenous Relations and Reconciliation
Contact:
Amanda Passmore, Communications & Public Affairs Officer
District of Sicamous
T: 250-836-2477
C: 250-517-9414
E: apassmore@sicamous.ca