CANCELLED! Temporary Closure: Solsqua-Sicamous Bridge
Posted On: Feb 10, 2021
Tags: Your Municipality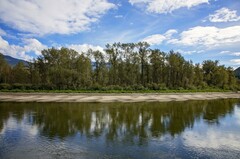 CANCELLED!
Effective MIDNIGHT, FRIDAY FEBRUARY 12, 2021 the Solsqua-Sicamous Bridge will be temporarily closed to public traffic. All other traffic needing to access the north side of the Eagle River will be required to detour through Cambie-Solsqua Road.
The temporary closure is required so that a geotechnical assessment may be completed. Further to this assessment we hope to have the bridge reopened in a timely manner.
We apologize for the inconvenience this closure and detour may cause. We continue to apply our best efforts on this project, and are working as safely and efficiently as we can to bring you the brand new bridge that our community deserves.
A PDF of this release can be found HERE.
Contact
Joe McCulloch, Operations Manager
District of Sicamous
C: 250-517-7370
E: operationsmanager@sicamous.ca