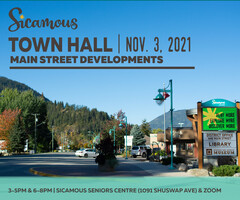 SAVE THE DATE! 
On November 3, 2021 a Town Hall will be held for residents to learn more about the Shuswap (Secwépemc) Healing Centre and a proposed residential-commercial development on Main Street.
We want to hear what you envision for Main Street!
DATE: Wednesday, November 3, 2021 
TIMES: 3:00 to 5:00 p.m. AND 6:00 to 8:00 p.m.
LOCATION: Sicamous Seniors Centre (1091 Shuswap Ave) or via ZOOM
More details regarding the Town Hall will follow. If you have any questions, please contact Corporate Officer Jennifer Bruns at 250-836-2477 or jbruns@sicamous.ca.
* Print advertisements will run in Shuswap Market News Oct. 22 and 29, 2021 and Eagle Valley News Oct. 29, 2021.