Two Mile Community Meeting
Posted On: Dec 10, 2021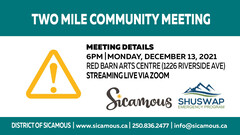 The District of Sicamous and Shuswap Emergency Program are hosting a Community Meeting on Monday, December 13 at 6 PM at the Red Barn Arts Centre to discuss post-wildfire landslide risks in the Two Mile area.
There will be a presentation followed by an opportunity for public questions.
Due to COVID-19 public health regulations, in-person attendance is set at 50 people. Masks are required. As a result, we encourage as many people as possible to join the meeting by Zoom. There will also be opportunities for those watching online to have their questions answered.
Please Note: This meeting will be recorded for anyone who cannot participate live. 
ZOOM Meeting Recording: