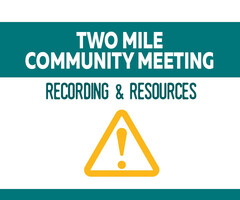 On December 13, 2021, the District of Sicamous and Shuswap Emergency Program (SEP) hosted a Community Meeting at the Red Barn Arts Centre to discuss post-wildfire landslide risks in the Two Mile area.
Matthias Jakob, Principal Geoscientist with BGC Engineering, provided a presentation to attendees who participated both in person and online. Along with Jakob, the meeting panelists included Engineering Geologist Hazel Wong, District of Sicamous Fire Chief Brett Ogino and Derek Sutherland with the Shuswap Emergency Program. 
The meeting was hosted online via ZOOM and was recorded for those who were unable to attend.
ZOOM Meeting Recording:
Resources for Residents:
Hard copies of resources are available at Municipal Hall (446 Main Street) between the hours of 8:30 a.m. and 4:30 p.m. Monday to Friday. Please note the office closes for the holidays on December 24, 2021 and will reopen on Monday, January 3, 2022.  
The District and SEP are committed to communicating effectively with residents as information becomes available. Please let us know the best way to communicate with you by contacting the District Office at 250-836-2477 or emailing info@sicamous.ca. 
Shuswap Emergency Program Contact:
Tom Hansen, Emergency Program Coordinator 
Shuswap Emergency Program/Columbia Shuswap Regional District
P: 250-833-5910
E: thansen@csrd.bc.ca
SEP is looking to create a Neighbourhood Emergency Program to ensure information is shared with those directly affected. Please contact the Shuswap Emergency Program to participate by calling Cathy Semchuk, who is the Emergency Program Facilitator.
Neighbourhood Emergency Program Contact: 
Cathy Semchuk, Emergency Program Facilitator and Operations Management
Shuswap Emergency Program/Columbia Shuswap Regional District
P: 250-833-5927
E: csemchuk@csrd.bc.ca
Learn more and register for Emergency Alerts with the new Alertable app.