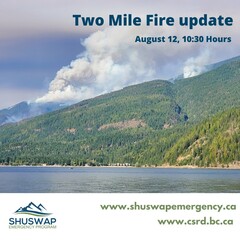 As predicted, gusty winds fueled fire behaviour on blazes around the Shuswap, with a noticeable impact on the Two Mile Fire near Sicamous and Swansea Point.
"Last night was a reminder that there is an out-of-control wildfire above our community," says Sicamous Fire Chief Brett Ogino.
• The winds continue to push the fire to the east, up the mountain and away from Sicamous and Swansea Point.
• The high temperatures and winds increased fire activity and enabled the fire to cross a fire guard.
• It started a sizable fire in a large stand of spruce trees. Fire intensity was Rank 3 and 4, which is a highly active fire with some torching in the trees. Individual trees could be seen candling with significant amounts of smoke.
• Due to the smoke plume, many Malakwa residents were able to see the location of the fire, creating some concern for residents.
• No new Evacuation Alerts have been issued and the current Alerts for the Sicamous and Swansea Point areas remain in effect.
• Wildfire crews continue the challenging work to contain the fire as much as possible and steer it away from the communities.