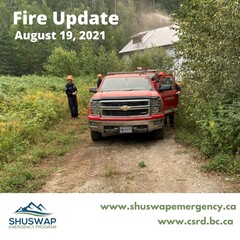 All Evacuation Orders and Alerts in the CSRD remain unchanged from August 18.
White Rock Lake Fire
Suppression efforts continue on all flanks of the wildfire. Yesterday, lower rank 1 and rank 2 fire behaviour was observed on most flanks.
Air support will continue to support ground crews.
Shuswap Complex fires (Two Mile, Hunakwa, Momich, Crazy Creek Gorge FSR and Three Valley Lake)
Two Mile Fire
Yesterday, the containment line from the Skyline FSR to Hummingbird Creek was completed around the area of the growth from two nights ago.
Today, BC Wildfire Service (BCWS) crews will be working above the Skyline FSR to extinguish several hot spots.
The contingency guard has been completed for the Swansea Point community. On the north flank of the fire, crews and heavy equipment continue to extend the containment line.
Hunakwa Lake Fire
The 10-foot blackline (fuel-free) fire guard on the west flank is now complete.
Yesterday, crews continued to patrol along property lines, targeting hotspots impacting the guard on the NW corner.
Today, crews will begin extending that blackline guard out to 100-feet. Crews will also be putting out hotspots that are burning deep.
Momich Lake Fire
The south flank closest to Seymour Arm is currently exhibiting minimal fire activity.
Helicopters are providing bucketing support.
Crazy Creek Gorge FSR
Crews continue to mop up along the perimeter closest to Queest Village and Peter Martin Bay. Yesterday, crews extended the mop-up to 50 feet and began working out to 100 feet. That work will continue today.
Now that the fire perimeter nearest the communities has been contained, structure protection needs will be assessed, and apparatus will be removed as necessary.
Due to reduced fire behaviour, this will be the only fire update for today, unless the fire situation changes significantly.