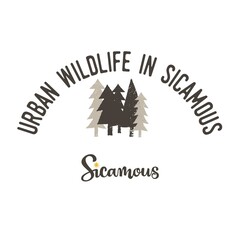 Sicamous is nestled within nature. Surrounded by water and mountains, it is no surprise that wildlife chooses to visit or reside within the District, especially after wildfire seasons that result in significant habitat destruction.
The District is excited to introduce a new webpage, Urban Wildlife in Sicamous. This webpage provides suggestions on how to deter urban wildlife from frequenting your yard and home, addressing raccoons, rats, black bears, grizzly bears and yellow-bellied marmots. 
The District of Sicamous does not respond to complaints about urban wildlife. However, the Bylaw Officer will enforce District bylaws that refer to the attraction of vermin.
Vermin refers to any animal that may damage buildings or structures, spread filth, or
spread disease including but not limited to Mouse, Rat, Chipmunk, Squirrel,
Raccoon, Rabbit, and Skunk (Good Neighbour Bylaw No. 1005, 2021).
To report a conflict with wildlife that threatens public safety, contact the BC Conservation Officer Service at 1-877-952-7277.