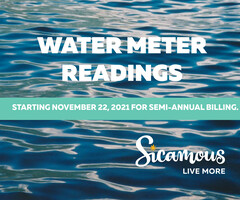 November 30, 2021 Update:
Water meter readings have been extended into this week - November 29, 2021 to December 3, 2021. 
November 18, 2021 Original Post:
The District of Sicamous will be conducting semi-annual water meter readings beginning November 22, 2021.
Please ensure outdoor meter sensors on your property are visible and/or accessible to be read during this time. The readings are expected to take place between November 22 and 26, 2021. 
Visit the Utility Billing Frequently Asked Questions page to learn more about billing, rates, payments and more.