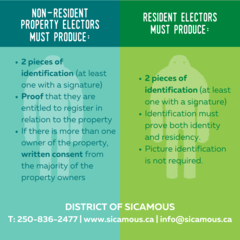 The polling station in Council Chambers at Municipal Hall (446 Main Street) will be open from 8AM to 8PM on Advance Voting Day (Wednesday, October 5th ) and General Voting Day (Saturday, October 15th).
With same-day voter registration, there is no need to register to vote in advance. When you arrive at the polling station, please bring two pieces of identification that proves who you are and where you live. It must include your name and residential address. If neither shows your residential address, you will be required to sign a solemn declaration.
What to Bring With You to the Polling Station:
Non-Resident Property Electors
2 pieces of identification, at least one with a signature.
Proof that they are entitled to register in relation to the property they own in the District of Sicamous.
If there is more than one property owner, the non-resident property owner will need to produce written consent from the majority of the property owners.
Resident Electors
2 pieces of identification, at least one with a signature. This must prove both identity and residency. Picture identification is not required.
Types of identification that will be accepted as identification include:
a Driver's License;
an Identification card such as

a photo BC services card;
a non-photo BC services card;

an Owner's Certificate of Insurance and Vehicle License issued by ICBC;
a BC CareCard or BC Gold CareCard;
a Ministry of Social Development and Economic Security Request for Continued Assistance Form SDES8, (now "Monthly Form EA181);
a Social Insurance Number card;
a Citizenship Card;
a real property tax notice;
a credit card or debit card; or
a utility bill such as electricity, natural gas, water, telephone or cable services.
PLEASE NOTE: The BC Services Card when combined with a Driver's Licence is considered one piece of identification. At least one ID must contain a signature. 
Election officials MUST accept any of the above listed identification documents. An election official may also accept other forms of documents that provide evidence satisfactory to the Presiding Election Official (e.g. a valid, current passport).