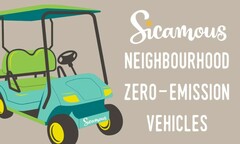 Seeing low-speed zero-emission vehicles whizzing around town is a unique Sicamous experience. Here is some more information on the authorization of these vehicles in Sicamous!
Q: What qualifies as a Zero-Emission Neighbourhood Vehicle?
A: A four-wheeled vehicle with an electric motor that is designed to allow the vehicle to reach a speed of 32 kilometres per hour but not more than 40 kilometres per hour within a distance of 1.6 kilometres on a paved level surface. The Zero-Emission Neighbourhood Vehicle must meet or exceed standards and requirements of the Motor Vehicle Safety Act (Canada) and bear a compliance label for a low-speed vehicle in accordance with that Act.
Q: Where can Zero-Emission Neighbourhood Vehicles be operated?
A: On any District roadway that has a speed limit of 50 kilometres per hour or less unless crossing a highway that has a speed of 80 kilometres per hour or less.
Q: Are there any special operating instructions for Zero-Emission Neighbourhood Vehicle drivers?
A: A person must drive the Neighbourhood Zero Emission Vehicle in the lane of the roadway that is closest to the right edge or curb of the roadway, except in order to make a left turn or pass another vehicle.
Off-Road Vehicle Plates (ICBC)