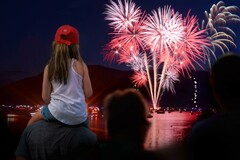 After a two-year hiatus, the District of Sicamous is excited to announce the return of Canada Day Celebrations at the Sicamous Beach Park. 
Approximately 2,500 people attended Sicamous' last Canada Day held in 2019; however, the District anticipates a larger attendance in 2022 due to Canada Day falling on a Friday. This year all entertainment will take place at the Sicamous Beach Park, and the District plans to feature not one but three bands from 4:00 p.m. until the fireworks begin.
There will be some changes to our previous event while keeping some of the tried-and-true pieces that make Canada Day a success. Highlights of the Celebration will include live local music, kids activities including a foam pit and bounce houses, road hockey tournament, vendors, fireworks and so much more.
The District is currently seeking three (3) bands and three (3) food-truck vendors to participate on Canada Day at the Sicamous Beach Park, as well as expressions of interest from not-for-profit organizations within the community to operate the beverage gardens.
Request for Vendors (Food Trucks):
If your business is interested in participating as a vendor, the following must be met:
Food truck must be self-contained,
Proof of insurance must be presented, and
An up-to-date health permit is required.
The District wants to ensure participating vendors are successful so the three vendors will be chosen based on menu variety to avoid duplication. Please note that under the District's Fees & Charges Bylaw, food trucks are charged a fee of $100 plus GST unless they have a current Business License with the District of Sicamous.
Please submit your application by May 31, 2022 to recreation@sicamous.ca or deliver in person to the District Office at Municipal Hall (446 Main St) Monday to Friday 8:30 a.m. and 4:30 p.m., excluding Statutory Holidays.
Request for Bands: 
Bands who are interested in performing are asked to email recreation@sicamous.ca with a music demo. 
Expressions of Interest for Operation of Beverage Garden: 
If your organization is interested in operating the Canada Day Beverage Garden on Friday, July 1, 2022, from 4:00 to 9:00 p.m., the following qualifications must be met:
Must be a not-for-profit organization within the District of Sicamous;
Must be in good standing under the Societies Act;
Must be able to purchase product for the event;
Must apply for the permit to operate the beverage gardens;
Individuals handling alcohol must be qualified with Serving it Right and provide proof of certification onsite;
Obtain and prove insurance with the District of Sicamous listed as a rider;
Provide proper security for the event;
Assume all tasks related to setup and teardown of the event;
Assist in marketing the event through their organization.
Responses will be accepted up until 4:30 p.m. on Tuesday, May 31, 2022.
If you have any questions, please contact Recreation Coordinator Jamie Sherlock at 250-836-2477 or recreation@sicamous.ca.
- Published March 28, 2022