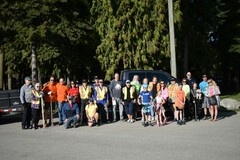 This is the first year the District of Sicamous was an official municipal partner of Earth Day Canada. The District of Sicamous celebrated Earth Day in collaboration with Sicamous Communities in Bloom during the annual Community Clean-Up on April 29.
The District of Sicamous and Sicamous Communities in Bloom would like to thank volunteers who helped with this year's event. Around 40 participants cleaned throughout the municipality or met at the Sicamous and District Senior's Centre to freshen up the senior's housing flower beds.
Every year we see an improvement in how clean our community is kept and the workload gets lighter for volunteers. A pinch point for the clean-up continues to be the road to the dump. As a reminder, please secure your loads so debris and garbage makes it to the dump and not the ditches!
The Sicamous Legion sponsored lunch for the volunteers. As the only remaining Service Club in Sicamous, they strive to support our vibrant community in many different ways.
Eagle Valley Senior Citizens Housing Society is always grateful for the beauty and the efforts the Blooms group puts into our spaces! We know Spring has arrived when they show up!
2023 Annual Community Cleanup