2023 Communities in Bloom Update!
Posted On: Aug 24, 2023
Tags: Home Featured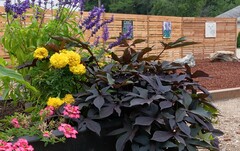 To all friends of Sicamous Communities in Bloom:
Although we chose not to participate in the evaluated category in 2023, we continue to make the revitalization and beautification of Sicamous a priority.
We considered submitting a showcase entry for 2023, but had a lot of important priorities and decided our best course of action was to complete as much as we could on several fronts.
In July of this year, Council adopted a Heritage Register for Sicamous. This can be explored on our Sicamous Heritage webpage. This has been a priority for Communities in Bloom for several years. In partnership with the Sicamous Museum & Historical Society and a very motivated group of residents, Communities in Bloom was able to offer support in bringing this important Sicamous initiative to fruition.
Downtown revitalization continues to be a priority for Communities in Bloom. We continue to work with the Legion to keep their site looking its best and to encourage long-blooming drought-resistant perennials to limit water use as much as possible. This year, the Legion added a sun sail to the Communities in Bloom sponsored patio project to make it even more fabulous.
Our feature downtown business this year is the Paradise Motel. The owner is a great supporter of Communities in Bloom and has discussed his vision and ideas with us throughout his business revitalization project. He has added much needed downtown camp sites and a laundromat; at the same time, Paradise Motel has added local artwork, plantings and screening. The owner has gone above and beyond to create a space that is lovely while simultaneously adding much needed services and amenities to our downtown.
Because the Sicamous Pickleball Club has been a great supporter of the Annual Communities in Bloom Community Clean Up, Communities in Bloom was happy to lend support to the club. The Pickleball Club requested that the District of Sicamous convert two of the three tennis courts into six new pickleball courts. Communities in Bloom provided screening and wind breaks for the courts and is working with the arts council to provide artwork as well. Sicamous hosted its first annual Pickleball Tournament at the new courts. Everyone agreed it was a great event and we have created an amazing facility for the community.
The District of Sicamous continues to make the environment and responsible energy use a priority. Communities in Bloom supported the District conversion to LED lighting this year. We love the efficient night lighting that has been added and how much more vibrant our downtown is in the evening.
Sicamous completed their Active Transportation Network Plan earlier this year and it was endorsed by council on April 12. The plan will help inform and guide the development of infrastructure, policies and programs for human-powered forms of transportation in the community. Goals of the plan include encouraging more environmentally friendly forms of transportation, improved connectivity, improved safety of transportation within the community and making transportation in the community more accessible.
Sicamous continues to build on fire safety within the community. This year, the District received a grant to hire a FireSmart Coordinator and crew to support the FireSmart program and work with residents to reduce fire risk within the community.
Sicamous continues to make bylaw education a focus over enforcement. Bylaw officer John Moore was recently featured in the local newspaper for his educational approach to bylaw compliance. A community ambassador was hired for the summer to work with bylaw enforcement on public education.
This year's Community Banner Project showed strong support for CiB with its pollinator theme. Communities in Bloom's partnership with the Eagle Valley Arts Council facilitates the addition of beautiful art throughout our community annually.
Stay tuned for more exciting Communities in Bloom projects!
Sicamous Communities in Bloom Update 2023