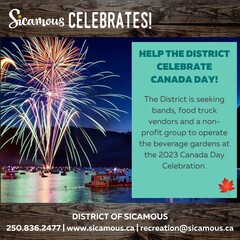 Are you a food or merchandise vendor looking for a place to set up for Canada Day?
The District of Sicamous is accepting applications for our Canada Day event from 4 p.m. to 10 p.m. Contact the Recreation Department at 250-836-2477 ext. 2192 or email recreation@sicamous.ca.
The District of Sicamous is also seeking an non-profit group to operate the Canada Day Beverage Gardens! All funds are retained by your group.
Your group must provide the following to be considered:
Event insurance
Liquor Permit
Qualified Servers
Security requirements (based on Liquor Control Board Regulations)
Understanding that the group is responsible for full set-up and clean-up of the event, including the provision your own tables and chairs
The District of Sicamous will provide the venue, entertainment, fencing (subject to event size), garbage and recycling bins and pick-up of garbage after the event.
Interested parties are asked to contact the Recreation Department to set up a meeting at 250-836-2477 ext. 2192 or by email at recreation@sicamous.ca