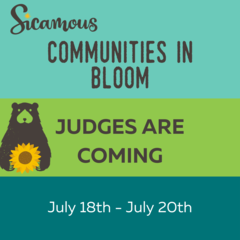 Get ready, Sicamous! From July 18 to July 20, the Communities in Bloom judges will be in Sicamous for the first time since 2019. Council has declared 2022 "The Year of the Garden," and we are excited to show off all of the amazing improvements that our community has made since the last time the judges visited. In 2019, we were awarded 4 blooms… This year, let's go for 5!
In anticipation of the judges' arrival, we encourage residents to take an extra moment to consider what each of us can do to make our community bloom. Whether that means picking up litter, plucking a pesky weed or offering a welcoming wave, small gestures make a big impact in our community.
It isn't every day that the Communities in Bloom judges come through town. Let's show them what Sicamous is all about!