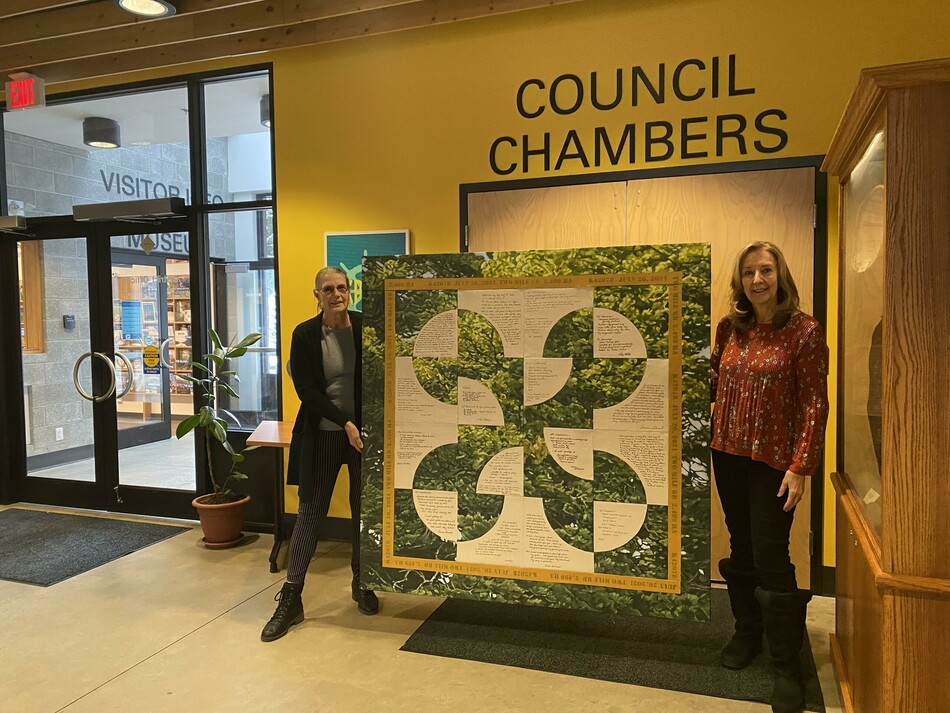 A collaborative art piece that reflects the strength of the Sicamous community in response to the 2021 Two Mile Creek Wildfire has found a new home in council chambers. 
Yesterday, Councillor Pam Beech accepted the artwork, titled Wildfire K42078, from local artist Carol Schlosar on behalf of District of Sicamous Council. The artwork was previously showcased in the Sicamous branch of the Okanagan Regional Library and was recently featured in the FiresWild Exhibition at Salmon Arm Art Gallery. 
Wildfire K42078 is a cooperative art piece with 15 longtime residents who were evacuated, including Ardice Daniel, Jane Block, Phaedra Oddy, Leanne Hamilton, Brenda Bushell, Sharon Scott, Margaret Bloor, Kathy Keam, Susan Miller, Shelagh Rich, Kathy Williams, Kristine Bohnsack, Karen Letendre, Janet Ferns and Mary Walters.
"As wildfires raged around us, the community came together to support each other as we evacuated, relocated and mourned the potential loss of the place we loved," writes Schlosar in her letter to council. "...This work is a thought-provoking piece of public art that tells an important chapter in our community story," she continues.
Council voted to accept the artwork donation during the January 11, 2023 regular council meeting.  
Artist Bio:
Carol Schlosar is an artist and musician living in Sicamous, B.C. She received her Fine Arts Diploma and her BFA from Thompson Rivers University. Her practice includes painting, sculpture, drawing, and printmaking and has exhibited in galleries across B.C.
Background Information: