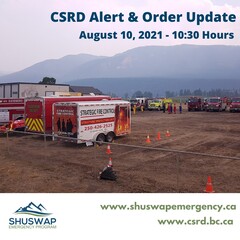 Evacuation Orders still in effect – Order means you must leave the area.
• Crazy Creek Gorge FSR fire – the communities of Pete Martin Bay and Queest
• White Rock Lake Fire - Pinaus Lake – 10 properties
• Bews Creek Fire - One cat-ski lodge
• Humamilt Lake – One property
Evacuation Alerts still in effect – An alert means you must be prepared to leave on short notice.
• White Rock Lake Fire – the Communities of Falkland and Cedar Hill
• Hunakwa Lake Fire – the community of Seymour Arm
• Two Mile Fire – a portion of the District of Sicamous and Swansea Point
• Three Valley Fire – the Three Valley Gap Chateau and surrounding area
As the situation is continually changing, the best way to get up-to-date information on Orders and Alerts is to check with the websites and social media of the local government involved.